Transformational Leaders: Jason Caplin, Director of Design, Digital & Technology at Barnardo's
12th December 2019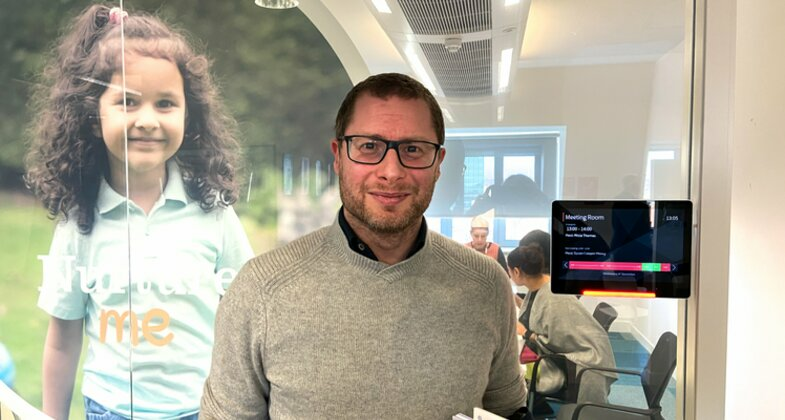 Barnardo's has an exceptional 150-year legacy of delivering life changing support to vulnerable children, young people and families. History brings legacy, and Barnardo's has a lot of both. But, proud of its ability to adapt and evolve, Barnardo's has embraced a digital vision that puts the user, be it child or colleague, at the very heart of all services. In the latest edition of our 'Transformational Leaders' series, Matt Cockbill, Partner and Head of Berwick Partners' IT & Digital Leadership practice, talks to Jason Caplin, Director of Design, Digital & Technology at Barnardo's.
Matt first met Jason Caplin whilst supporting the assessment of candidates for a new board role combining Digital and Technology functions, to drive the digital transformation of the charity. Jason now holds that role – Director of Design, Data, Digital and Technology – and is accountable for the vision and resources to conceive, develop, deliver and evolve this exciting change journey.
An exceptionally passionate leader of people, and advocate for genuine inclusivity, Jason has no time for digital tokenism: it's an all-or-nothing deal. It must 'matter' and positively impact everyone on both sides of the life-changing services that Barnardo's provide, or not all. Nearing two years into the journey, Jason talks to us, about his part in leading the #futurebarnardos transformation.
Set the scene for us Jason: you joined Barnardo's as Chief Digital Officer – what made you join them?
Adam Pemberton, Corporate Director (Strategy & Performance) for Barnardo's, shared with me some of the work he was tasked with. The ambition, remit and excitement of the organisation was so compelling that I didn't think twice. I had been in Government for about five years, but I knew that I was not a career civil servant. I had particularly enjoyed the energy and intellect in the Civil Service, but I was keen to reconnect with the external world.
Barnardo's aims to deliver £250m worth of children's services by 2025. We already support around 300,000 children and young people, parents and carers. It is close to, but distinct from, the Whitehall bubble. It's an exciting organisation with an exceptionally ambitious leader, who has a strong external perspective beyond the sector.
Javed Khan, our CEO, is shaping an exciting top team who are driving a powerful agenda. Our 2025 objectives include focusing on positive futures for children in care; growing the volunteer base to 25,000; doubling its net fundraising income; and, to deliver all this, becoming a fully digital, diverse and learning organisation.
A study had already defined big opportunities to help Barnardo's become more digitally enabled when I joined. This was a great starting point, including delivering new websites and internal communications, but it also allowed us to ask how we can redefine the services being delivered to young people. If we could look to address more children who need help, and improve the outputs of our services, then we had real and meaningful transformation.
We set up a team to start managing and harnessing the power of data in the organisation. We asked questions like: 'What does this tell us about the service needs of children and how these needs are evolving over time?', 'How do we engage beyond children's services?', and 'How can we use data to disrupt fundraising?'.
Digital isn't a 'thing'. Providing tools and ways of working and products which meet the expectations of our digital age absolutely is the 'thing'! This means getting the legacy systems out of the way to enable our people to look after themselves through self-service, wherever they are.
We provide face-to-face services with 295,000 children, young people and families per year, and reach a further 2.1 million who have some form of mental or physical disadvantage. We have put in place a user-led design approach, which children's services commissioners are also now adopting. It is through human-centric service design that we cut out unnecessary process and complexity.
We set ourselves three rules: user needs first; every decision led by data; and iterative and small beginnings towards big goals. This has held us in very good stead for the last three years.
With integration of IT & Digital teams, you've led substantial change within the organisation. Where has this led?
The beautiful thing about running a digital team with an agile toolkit and nimble mindset is that you don't have to hold onto the things that you saw as problems on day one. Even a few months into the role, we saw that the aged IT that many staff had to work with was taking them away from working with young people and children. Working with the leadership team, we assessed what was going to have the most impact and merged IT and Digital in order to change ways of working, expectations, capability and culture, and, of course, the IT kit on people's desks.
The programme to provide our colleagues with the IT to be mobile and secure started a year ago. All staff will benefit from the freedom and empowerment that mobile technology brings to their work with children. Historically, IT was command and control. Now, we are shaping a culture around data and technology that matches our approach to delivering care to children.
Previously, we have trusted frontline staff to care for and deliver help for very vulnerable children, but then restricted what they could do on their computer. We need people to be confident in using technology, with the same degree of trust we give them to do their jobs. We consulted with the National Cyber Security Centre and other partners to give a radically different and permissive approach to using technology as a part of everyday service delivery excellence.
Innovation and Digital are inextricably linked. How have you fostered a culture of agile delivery & innovation at Barnardo's, while maintaining a relentless focus upon the security of often exceptionally sensitive service user data?
One of the first tools we delivered was through a partnership between Barnardo's and the Local Government Association (LGA), to achieve a system change in the provision of services for children and families affected by female genital mutilation (FGM). Practitioners in this National FGM Centre partnership are very specialist and exceptionally knowledgeable. They are in demand, time-poor and working in a very sensitive area.
We targeted reducing their administrative burden, in order to enable them to get to children in need of support as swiftly as possible. Not only did Leethen Bartholomew, the Head of the Centre, recognise its capability, but he also ensured that we could work closely with his team and cascade the tool quickly for use.
We spent a long time working with the team and provisioned an 80% faster assessment process. We were able to deliver a tool to more than 2,000 practitioners to assess girls at risk, and it is in use behind the scenes in local authorities. The real power of digital was that this was at no cost to the centre, required minimal training and was accessible immediately – it was a great example of shifting mindsets to really drive home the advantage created by digital innovation.
In shaping your teams, you have actively shifted the dial upon leadership diversity. How has this benefitted the delivery of transformation?
There are three pillars which are critical to delivering Barnardo's strategy to 2025; digital, learning (sharing and communicating knowledge) and diversity. Barnardo's delivers services to a hugely diverse cross-section of children from varied backgrounds. We believe we must be diverse in body and thought. We are a 50% female team – something very rare in tech – and have more than 15% BAME team members. We also have a number of other non-binary gender team members, as well as some who are currently transitioning, in addition to several team members who have disabilities.
We think it is crucial that we represent as many of the people that we deliver services to. This is powerful in practice because you get constructive challenge by default. When we relaunched the website, we had push-back from the team on font size on mobiles, or captions under photographs. The key performance metrics of web success did not align with people's lived experience and we were able to improve on all users' experience as a result.
It proves it is possible to hire as diversely as we have and to set precedent for others. At conference speaking opportunities, we ensure we are in diverse panels, and we consistently offer team members opportunities to speak for us. I am really proud of how we deliver this.
What advice would you offer people seeking to support and enable digital evolution in the not for profit sector?
From an organisational perspective, Barnardo's has been extremely brave in hiring me. I'm someone who didn't bring sector expertise and didn't have a clinically linear career history, but I met their expectation of ambition and purpose. So, while this sounds a little trite, it's enabled me to ask: "What would Javed do?" When hiring talent, look for a person who matches the ambition and vision of the charity, because if you choose right, they will help drive the full organisation forward and be an ally at the top table all the way throughout the journey. And as a candidate – don't be scared, go for it.
I've been fortunate enough to work with Jason in helping to assemble his leadership team. He has an authenticity of purpose which is hugely compelling and binds people to both the transformation, and critically to the underlying purpose which drives change. When it comes to values, he walks the walk and I believe it is this basis for which digital has been so effective in leading fundamental change in Barnardo's.
Furthermore, it has been key to attracting diverse talent from a broad spectrum of commercial and not-for-profit sectors, to achieve the #FutureBarnardos vision. Barnardo's is creating new legacy, enriching their proud history and embracing digital as a means to that end. There is no room for hype or hyperbole – just meaningful digital delivery. Arguably #FutureBarnardos is already here, but positively evolving daily.
For more information, please contact Matt Cockbill, Head of the IT & Digital Leadership Practice at Berwick Partners.