Five minutes with…Nigel Wilson, Chief Executive of Gentoo Group
27th January 2020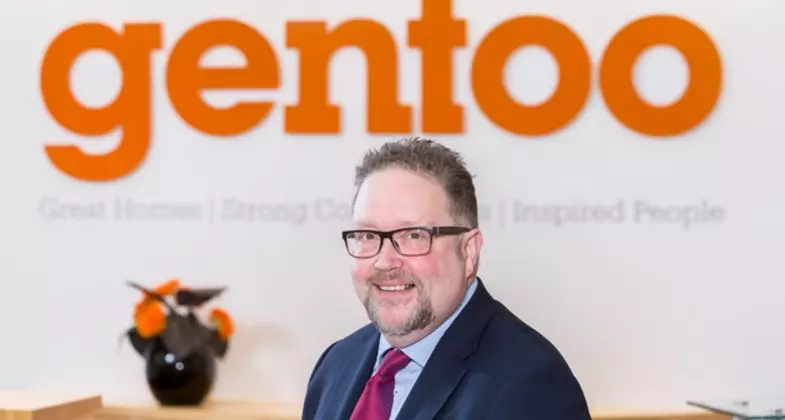 Gentoo is the largest housing association in Sunderland, with over 30,000 properties, and is a hallmark name across the North East. However, in 2017 the housing association was made non-compliant by the regulator due to a governance failure 'at the most basic level'. Further to this, an amount of properties failed to meet the Decent Homes Standard – the basic standard for quality in English social housing. A period of turmoil around cultural and management issues resulted, including the departure of the then Chief Executive and Board Members.
In January 2019, after spending over 12 years as Chief Executive of Wythenshawe Community Housing Group, Nigel Wilson accepted the obvious challenges that Gentoo Group faced – relocated from the North West to become the Chief Executive.
In January 2019, after spending over 12 years as Chief Executive of Wythenshawe Community Housing Group, Nigel Wilson accepted the obvious challenges that Gentoo Group faced – relocated from the North West to become the Chief Executive.
Tom Neely, Housing Practice Lead at Berwick Partners, speaks to Nigel about his first year in post and how he has moved the organisation forward, the challenges he has faced, and how the sector may be affected by the current political landscape.
When you became CEO, what was your biggest challenge and what is the greatest thing you have learnt?
The biggest challenge as a new Chief Executive is that moment when everyone looks at you and awaits the decision for the first time. The 'impostor syndrome' seeks to creep into your head and you desperately are trying not to give the quick-fire answer, taking the considered, measured thought! So, I guess it's remembering that the Board had the confidence to entrust you. You have experienced and valued colleagues around you and trust your instinct (often it's what got us here in the first place), and if you care passionately about housing and serving the tenants, the right answers will flow. Additionally, always be happy to learn from mistakes because they will happen!
Was there anything you think you could have done to better prepare yourself on starting the role?
In terms of better preparing oneself, it's difficult because I think we all have different approaches and styles. For me, it's having the time to learn the patch and the estates, getting a feel for the business, and listening to colleagues. When I started at Gentoo in 2019, I gave myself the opportunity to meet and talk to 1,000 of the 12,000 colleagues within the first 12 weeks.  This allowed me to capture the priorities of colleagues and build a plan around their worries, and demonstrate an approach of listening and learning, whilst also being painfully honest about the challenges ahead.
Over the past year, you've led substantial change within the organisation. What were the key priorities and where has this led?
The priorities in my first year were helping to rebuild the trust and confidence in organisational leadership, recognising that change was needed in some areas, being honest about this and building consensus.
We reaffirmed our priorities as a business, as place, tenants, services and created a joined-up approach as a business, not allowing the siloes to continue being built up. This included engaging and involving colleagues in the change, setting clear objectives, G2 with Regulator, IIP Gold, building a staff forum, instigating consistent management practice, and tackling historic or out-of-date practices such as incremental pay scales!
After a year, I am revisiting colleague sessions to check in with progress and listen again to views. It's a significant investment of time but is so important to keep grounded and allow managers to be connected directly and clearly!
What have been the main challenges you've faced with regards to the change agenda?
The change agenda at Gentoo, like anywhere, is about, pace, engagement, clarity and outcomes. We have set realistic targets in the calendar, met teams and been open on ambitions, stating with clarity why we are doing it. Challenges have been keeping messages consistent as they are disseminated and meeting the 'doubters' and the 'unbelievers'. Another challenge has been keeping a focus on rationale and maintaining motivation, as competing priorities happen often!
Gentoo has a very established and stable workforce who are very used to their historic working practices, flexi leave being a key one in many colleagues' view. We had to tackle this as it was clear that the system has evolved to benefit colleagues and not focus on the provision of services to tenants.
From a cultural perspective, how have you driven this positive change across the organisation?
Positive change has been driven by communication and openness about what we need on the back of the conversations with colleagues, so we sought to make it a joined-up approach. Engagement of colleagues in teams, consulting and being inclusive have helped. Ultimately, we have had to act sometimes to make a change and will not pretend that it's been universally loved, but in the belief that we have acted for the best interests of the business and the services we provide.
What are the top three qualities that you look for in your leadership team?
Honesty
Passion
Commitment
At what stage in someone's career do you consider if they are a potential leader, and what do you do to support and develop them?
Investing in talent is crucial for all businesses and the opportunity to spot talent and leadership qualities early is key. I have always sought to give people opportunities above and beyond their role, including working in teams, on specific projects, attending outside meetings and courses, and spending time with other organisations. The search for talent is hard and we want to give colleagues the best chance to succeed, so having the succession discussion is something to do every year and we push employees to look at their strengths and opportunities for growth.
Looking ahead to this year – what do you see as the key challenges for the organisation and sector and how are you addressing these?
The key challenges for Gentoo are getting the IDA done and hopefully moving to G1. This will be a key recognition for the hard work of our colleagues and board.  We have begun a programme of investment in providing new homes and are looking to further develop our digital services. This is alongside the continued investment in our existing houses in Sunderland. I hope our work, in partnership with the Council in Sunderland, will build models for integrated work with partners at a local community level.
As a sector, it will be important that the North does get its fair distribution of resources as discussed since the election. We will need to work proactively with the Government on measures to help tackle the housing crisis and seek opportunities to deliver regeneration within the communities that need it most.
The work around the tenant's voice will be important for the sector to demonstrate real progress and traction.
Gentoo will continue to work with Homes for the North to lobby and provide research-backed evidence to make our case. We will work with the Northern Housing Consortium, National Housing Federation, Placeshapers and CIOH to ensure that the voice of tenants and housing is heard.
For more information on this article please contact Tom Neely who is consultant in our Real Estate practice.