Five Minutes with…Amanda Newton, Executive Director of Customer Insight at Livv Housing Group
14th June 2021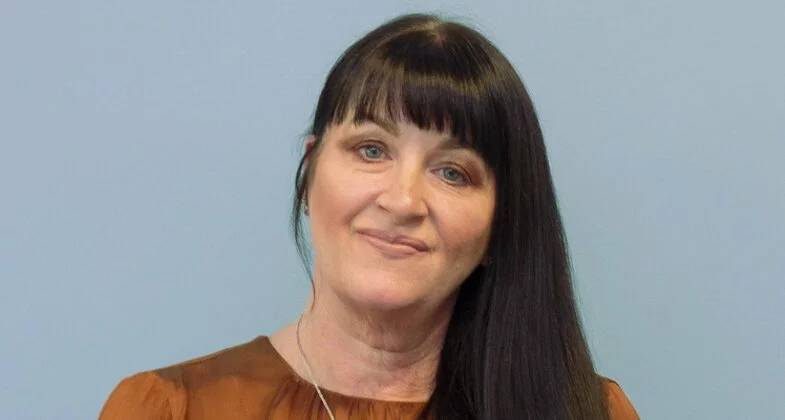 Livv Housing Group is an independent housing association, providing affordable, quality homes for around 25,000 people, through nearly 14,000 properties in Knowsley, Merseyside.
It is fair to say that Livv Housing Group has been through a significant change agenda. In April 2020 First Ark Group transformed into Livv Housing Group – a business dedicated to achieving positive social impact and flourishing communities, with the aim of bringing people and neighbourhoods together to create better opportunities to grow, develop and thrive.
Amanda Newton, Executive Director of Customer Insight, took the decision to join the organisation in June 2019. Her portfolio includes Customer Services, the Neighbourhoods Teams, the social impact function One Ark, the Income Team, Lettings and the Independent Living team. As we partner with Amanda and the team at Livv Housing Group on two pivotal senior roles, we sat down with her to discuss the transformation that Livv Housing has undertaken and the type of leader she is looking to bring into her teams.
Over the past year, you have led substantial change within the organisation. What were the key priorities and where has this led?
The past two years have seen us transform the organisation on so many levels. We have completely changed and simplified our governance structure, and embedded a Board that has a real focus on good governance and a clear ambition to do good for our customers and communities.
We have brought the focus back on being a housing provider that is embedded in the community, we've focused on getting the basics right and reinstated our regulatory standing to a position of compliance. We have also rebranded the organisation with a set of brand values that are meaningful for our customers, stakeholders and employees. We're proud of our achievements, the business feels tangibly different with lots of optimism for a bright future.
We are particularly pleased as this has all been achieved during a pandemic, which required us to reimagine the way in which we deliver many of our services. Our new operating model will see the old functional silos disappear, replaced with a focus on delivering a brilliant customer journey and experience. We've listened to our customers' frustrations and started to embed something that will look and feel completely different.
Our employees told me that they were frustrated by the way in which our systems and processes held them back, so we're investing in process redesign, simplification and in integrated technology, which will see more efficient processes and a service that our employees will be proud of, and our customers will love. We're already starting to see some brilliant results from our new customer feedback portal, and I expect this to only get better as we embed our new customer friendly ways of working. We're now in a great place to move onto the next stage of our evolution as Livv Housing Group; one where we are a strong partner, a trusted housing provider and an organisation that believes we should and can make a difference to our customers, both today and into the future.
From a cultural perspective, how have you driven this positive change across the organisation?
Everything we have achieved has been done with reference to, and inclusion of, the people concerned. Our journey started and continues with a focus on developing a culture which concentrates on what is important for our employees and our customers.
When I arrived in summer 2019, we had just completed a culture survey and our teams told us that health and safety and compliance were right at the top of their agenda. The past few years have been challenging for colleagues from across the Group and their resilience throughout this time has been incredible. The regulatory downgrade was completely owned across the business, and the thing I have seen is a gritty determination and real ambition to be the best that we can for our customers.
At an organisational level, our re-brand was founded in making people proud again. The Livv values were shaped with our people, and we recently won an HR Excellence award for the best people engagement strategy – we were up against some of the most successful brands and businesses, which was excellent. We have embedded a new customer engagement framework in order to understand our customers' views on what they want and need. We are now talking to many more people than we were and have engagement that is truly representative of the people who live in our homes and communities. There is more to do on this, but we've made great progress. We've focused on developing an employee proposition that is contemporary and taken the learning from the pandemic to focus on the good things that have emerged.
What are the top three qualities that you look for in your leadership team?
We are an organisation that leads with a strong set of values, so the top three qualities that I look for in a leader are: a complete and unwavering focus on supporting our customers and communities to thrive; someone who is committed to delivering what we promise and finding new creative ways of getting the best outcomes; and a leadership style which is enabling and empowering. I believe it's important to create a culture where people can be themselves – leading a business like Livv is serious stuff much of the time, but we need to be able to take a step back and really enjoy what we are doing with humility and a sense of fun.
What have been the biggest influences on your leadership style throughout your career?
I've been fortunate to work alongside some very inspirational and compelling leaders during my career. Having worked in the public, private and not for profit sectors these influences have been very different, but all have created a real tapestry of what great leadership needs to look and feel like. For me, it's about really believing in what you are doing, and it means something very personal to see positive outcomes.
The thing that motivates me is being able to finish each day knowing that some of what you do, even the small things, has the ability to make a huge difference to someone's life. The teams that I lead deal with some of the most challenging situations with our customers that you can imagine; people losing their livelihood during the pandemic, people suffering from mental health issues, the impacts of anti-social behaviour and domestic violence, to name but a few. There is not a day that goes by when I'm not intensely proud of them and frankly, titles don't matter, because that is leadership in action. It's authentic and inspirational.
Leadership to me is about using your influence, experience and skills to make a positive difference to people's lives and create better life chances for people who may not be able to do that for themselves. Being part of Livv sees me working alongside a talented and professional Executive Team with a very strong and aligned set of values. We are led by a CEO, Leann Hearne, who is driven but, most importantly, is completely authentic. She sees the positive in the most challenging situations and our employees trust her and, in turn, us as a leadership team. This focus on what 'is' possible is the thing that drives us forward and will see Livv go from strength to strength.
The pandemic can create opportunity as well as challenge. In the current climate, what do you see as the biggest opportunity for the sector to embrace?
It's been a tough 12 months but there is no doubt that the pandemic has created much opportunity – we lose sight of that at our peril! At Livv we have captured, and will continue to capture, the positive learning and insight that we have gained. I'm sure there's not a business in the land who hasn't seen a faster transition to digital engagement than they would've believed possible – I think the pandemic has challenged us to think differently and be more fleet of foot; we've achieved things through the management of a crisis that would likely have taken us much longer in the 'old' days. We can now use this to create a level of agility and responsiveness that we never would've thought possible.
One of the biggest learning points from the pandemic has been how resilient the people within our communities really are – we've been working hard with partners to support communities through what, for many, will be the most scary and challenging time in their lives so far. We've been working on projects that build on this resilience and it's been great to see deliver some great results. Things like supporting people who may have lost their jobs as a result of the pandemic to get back into employment quickly, and working with partners to deliver some great social impact projects.
The challenge for the sector is again to use this insight to move forward positively. It's a really exciting time and we are progressing some brilliant projects that will see more of the learning and insight come to life…watch this space!
And with this being said, what do you see as the key challenges for the sector and how are you addressing these?
With challenge comes opportunity. I don't like to think about challenges in isolation of what we might do to overcome them – if we do lose sight of the solution, it ends there, and we never move forward. For me we need to think wider than 'the sector' and look at what the best service providers are doing to engage and delight their customers.
We also need to consider how we become more bespoke as housing providers based on place and the presenting need. Aspiration can be low in some of our communities, and we need to help people understand that they don't have to settle for mediocre – they can, and should, expect us to deliver services in a way that is at least equal to, but hopefully better than, the service providers they admire the most. Our Regulator is clear on this; listen to your customers, engage with them, work out what's important to them, but also show them the art of the possible. That's my ambition for how we deliver customer services at Livv – we are embedding new feedback mechanisms that have seen our engagement with our customers increase massively. We are building on this all the time to ensure that what we hear is honest and representative of our customers and communities. We are continuing, and will continue, to benchmark and take learning from the best, whether that's within the sector or outside.
Tom Neely is focused on recruiting senior management and leadership roles across Social Housing providers.